Return to Headlines
OKCPS Congratulates the Site Teachers of the Year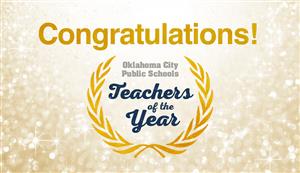 Congratulations to our 2018-2019 OKCPS Site Teachers of the Year!
"As I have said many times, the most important relationship inside of any school building is the one between a teacher and a student. Each day these amazing educators work to bring our District's mission to life by igniting a passion for learning in every child, inviting our families to engage, and inspiring respectful and trusting relationships with our diverse community" said Dr. McDaniel, Superintendent of Schools.
Congratulations to each of our 2018-19 site winners and my sincere thanks to all OKCPS teachers for your ongoing commitment to the students of OKCPS.
2018-2019 OKCPS Teachers of the Year
| | |
| --- | --- |
| Teacher of the Year | School |
| Dana George | Adams Elementary |
| Alberto Jimenez | Arthur Elementary |
| Katie Alsup | Belle Isle Enterprise Middle School |
| Dylan Smith | Bodine Elementary |
| Barbara Jones | Britton Elementary |
| Debra Cox | Buchanan Elementary |
| Julio Fajardo | Capitol Hill Elementary |
| Pablo Gonzalez | Capitol Hill High School |
| Molly Jaynes | Cesar Chavez Elementary |
| Samantha Waldrop | Classen School of Advanced Studies |
| Leslie Scrivner | Cleveland Elementary |
| Katie Barton (Lanora) | Coolidge Elementary |
| Maria Krey-Gibson | Douglass Mid-High |
| Kathy Clear | Edgemere Elementary |
| Danielle Saile | Edwards Elementary |
| Luann Blair | Emerson North |
| Barbara Lowery | Emerson South |
| Jonathon Johnson | Esperanza Elementary |
| Kelli Farris | Eugene Field Elementary |
| Loretha Sullivan | F.D. Moon Elementary |
| Holly Moore | Fillmore Elementary |
| Michelle Platt | Gatewood Elementary |
| Alicia Nichols | Green Pastures Elementary |
| Felicia Dorsey | Greystone Elementary |
| Rachel Ambruso | Hawthorne Elementary |
| Natalie Brittingham | Hayes Elementary |
| Rachael Allen | Heronville Elementary |
| Monica Green-Griffin | Hillcrest Elementary |
| Krystal Williams | Horace Mann Elementary |
| Carol Gibson | Jefferson Middle School |
| Shelley Grant | John Marshall Mid-High |
| Sally Berry | Johnson Elementary |
| Amanda Gridler | Kaiser Elementary |
| Jessica Tilley | Lee Elementary |
| Brian Taylor Snyder | Linwood Elementary |
| Brenda Martindale | Mark Twain Elementary |
| Laquita Hooker-Shepherd | Martin Luther King Jr. Elementary |
| Letia Crawford | Mary Golda Ross Elementary |
| Mary Geurin | Monroe Elementary |
| Eileen Martin | Nichols Hills Enterprise Elementary |
| Debra Bell | North Highland Elementary |
| Lulla Wilson | Northeast Academy |
| Travis Cunningham | NW Classen High School |
| Cynthia Grundy | Oakridge Elementary |
| Tara Bassett | Oklahoma Centennial Mid-High |
| Holliebe Collins | Parks Elementary |
| Carlos Alvarez | Parmelee Elementary |
| Jessica Garrett | Pierce Elementary |
| Christian Reyes-Pearson | Prairie Queen Elementary |
| Jennifer Bowles | Putnam Heights Elementary |
| Angelica Grajeda | Quail Creek Elementary |
| Michell Madole | Rancho Village Elementary |
| Angela Pearson | Ridgeview Elementary |
| George (Joe) Norton | Rockwood Elementary |
| Dr. Christina Kirk | Rogers Middle School |
| Janet (India) Jennings | Roosevelt Middle School |
| Samantha Twyman | Sequoyah Elementary |
| Kathleen Logan | Shidler Elementary |
| Doug Hinkle | Southeast High School |
| Dr. Kendra Abel | Southern Hills Elementary |
| Chabli Glaze | Spencer Elementary |
| Travis Doolin | Star Spencer High School |
| William Calvin | Taft Middle School |
| Aimee Stutzman | Telstar Elementary |
| Lisa Loughlin | U.S. Grant High School |
| Alicia Di Tommaso | Van Buren Elementary |
| Tayler Dallam | Webster Middle School |
| Samantha Godwin | West Nichols Hills Elementary |
| Miguel Blanco | Westwood Elementary |
| Shannon Tiger | Wheeler Elementary |
| Myriam Coquillon | Willow Brook Elementary |
| Lauren McElvany | Wilson Elementary |