A Virtual Night in Literacy, Math, & Science
Please click on the link below to access from this webpage.
Virtual Night Landing Page Click Here
February 18th, 2021 @ 6-7:30 PM
Location: Teachers' Homeroom Canvas Pages, Facebook, & Website will have the google meet links all on a google slide.
Please join us as we have a special night to have fun and do activities with teachers, staff, and other students across the school virtually.
We are excited to have a special guest join us from 6-6:30, so you don't want to be late. They will present and after the presentation, students and parents can enter google meets with teachers across the school to join in on some very special, planned activities.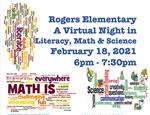 ---