Home of the Generals!

---
Administration

Principal
Greg Frederick
Email: gtfrederick@okcps.org

Assistant Principal
- Jennifer Kleyn
- Kandy Hunt
- Paul Hartman
- Cathy Hill
- Stephen Beck, Admin Intern
---
Bell Schedule during Remote Learning:
TB 1: 7:35am - 8:22am
TB 2: 8:27am - 9:14am
TB 3: 9:19am - 10:06am
TB 4*: 10:11am - 10:58am *If you have TB 4 Advisory, this is your lunch
TB 5*: 11:03am - 11:50am *If you have TB 5 Advisory, this is your lunch
TB 6*: 11:55am - 12:42pm *If you have TB 6 Advisory, this is your lunch
TB 7*: 12:47pm - 1:34pm *If you have TB 7 Advisory, this is your lunch
TB 8: 1:39pm - 2:25pm
---
Senior Pictures Postponed!
Due to increased COVID-19 levels, we are required to postpone taking Senior Pictures.
As soon as we have more information, we will let you know.
---
Click Here For Our OPEN HOUSE Presentation
---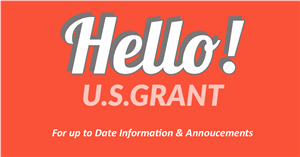 Click here for up-to-date announcements!
---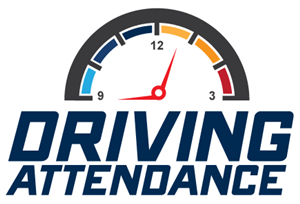 Ready to earn $100 or more?

We have the opportunity to award 2 students with a $100 gift card for perfect attencance each 9 week period. These will be students who had perfect attendance for the entire period. The grand prize will be one $500 gift card to be drawn form the list of students who had perfect attendance ALL school year.
Be sure you are in your classes every school day to be eligible!
---
OKCPS will transition from our summer meal service program to our regular fall meal service on Monday, August 31st. "Grab & Go" breakfast and lunches will be available to ANY OKCPS student under 18 years of age at no cost from Monday through Friday from 10:30 a.m. to 1:00 p.m. Families can pick up both meals at the same time at any OKCPS school site. Additionally, OKCPS will have 9 off site locations where families can pick up their meals.
Your student's ID number can be found on your Infinite Campus Parent Portal or on your student's device log in paperwork. If you are unsure of your student's ID number, please contact your school.
Families should wear a mask or face covering when picking up food and continue to practice social distancing when on a school's campus. More info: https://www.okcps.org/Page/5288

OKCPS comenzará el programa de servicio de comidas de otoño regular el lunes 31 de agosto. Los desayunos y almuerzos "para llevar" estarán disponibles sin costo alguno para CUALQUIER estudiante de OKCPS menor de 18 años de lunes a viernes de 10:30 a.m. a 1:00 p.m. Las familias pueden recoger ambas comidas al mismo tiempo en cualquier sitio escolar de OKCPS. Además de las escuelas, OKCPS tendrá 9 locaciones adicionales donde las familias pueden recoger sus comidas.
El número de identificación de su estudiante se puede encontrar en su portal para padres de Infinite Campus o en la documentación de inicio de sesión del dispositivo tecnológico de su estudiante. Si no está seguro del número de identificación de su estudiante, comuníquese con su escuela.
Las familias deben usar una máscara o cubrirse la cara cuando recojanlas comidas y continuar practicando el distanciamiento social cuando estén en el campus de la escuela. More info: https://www.okcps.org/5289
---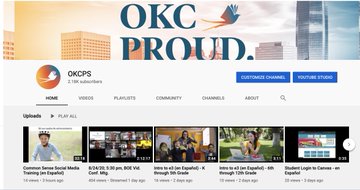 Follow #OKCPS on Youtube!

We've created tutorials both in English and Spanish about logging into Canvas, navigating your Chromebook and iPad, and installing iPad apps! We will be creating more videos to help families navigate our virtual world of learning!

Check it out: https://bit.ly/2YzvBxG
---

2020-2021 ENROLLMENT INFORMATION/ENSCRIPSIONES INFORMACION

If you have not yet enrolled, please call 405-587-2200 to make an appointment. You must be enrolled before you can receive your technolocy device.
Si aún no se ha inscrito, llame al 405-587-2200 para hacer una cita. Necesita estar inscrito antes de recibir su computadora.
Monday through Friday 8:00AM - 1:30PM

Please bring:
Two proofs of residency, such as a utility bill, lease agreement, or other official documents
Current photo ID of parent/legal guardian
Updated immunization records
If you are new to UGS from another district or state, please provide an official transcript from your previous school/district and an official copy of your child's birth certificate.

More enrollment information can be found here: STUDENT SERVICES
---
Records Requests:
Current students: Click Here
Class of 2016-2020: Click Here
Class of 2015 or earlier: Click Here
---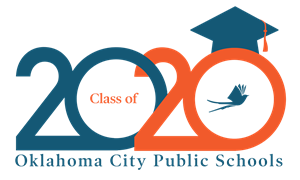 Virtual Graduation Information
A message to the Class of 2020 from our Superintendent, Dr. McDaniel
---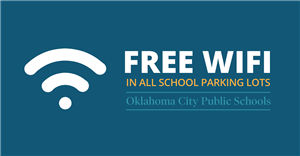 Families are welcomed to our building parking lots to access the OKCPS-open network to work on our CLP or do other key things like job applications, pay bills online, or connect with family members over video chat! No password is needed!
Check out the access times below!

- From 1 PM to 8 PM you can park in our elementary school lots!

- From 8 AM to 8 PM you can park at our secondary school lots!

---
ATTENTION USG PARENTS AND STUDENTS: You will be receiving calls from teachers soon! This call may come from an unknown or unfamiliar number. Please ANSWER! If you do not hear from a teacher withing the next frew days, please reach out to ANY teacher that you may have access to via email or social media. It is important that we speak to you. Thank you!
---
School Calendars/Calendario Escolar:
2020-2021 Student/Parent Calendar
School Hours/Horas de Estudio
7:35am-2:25pm
Student Drop-Off Change
Attention USG Students: All students will now enter scanning through the south doors of the building. The main door will not open for students until 7:50 am. There will be 2 lines at the south door that will open at 7AM. One line for students who have a backpack and a line for no bags. Please arrive by 7:20 to ensure you are not late for school. ATTENDANCE MATTERS!

---
Map Address
5016 S Pennsylvania Ave, Oklahoma City, OK 73119
Office: (405) 587-2200
Fax: (405) 587-2205
---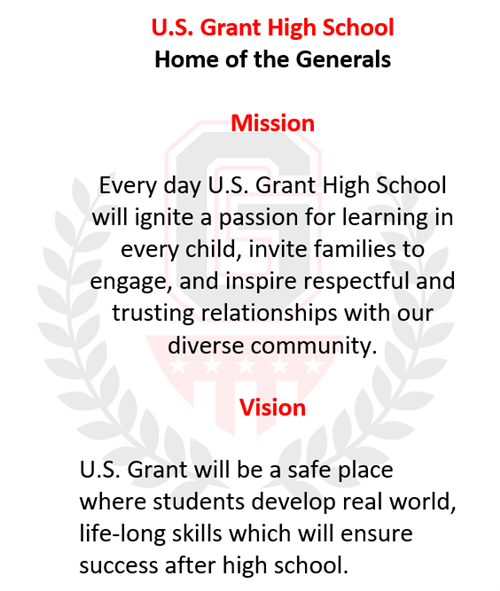 ---
Core Beliefs
We Believe: A quality education, accessible to everyone, is the key to our future success and societal advancement.
We Believe: Our school should reflect a microcosm of society where adults model citizenship and collaboration, and work together to solve problems and reach shared goals.
We Believe: Our Faculty and Staff should develop caring relationships that inspire and enable student success.
---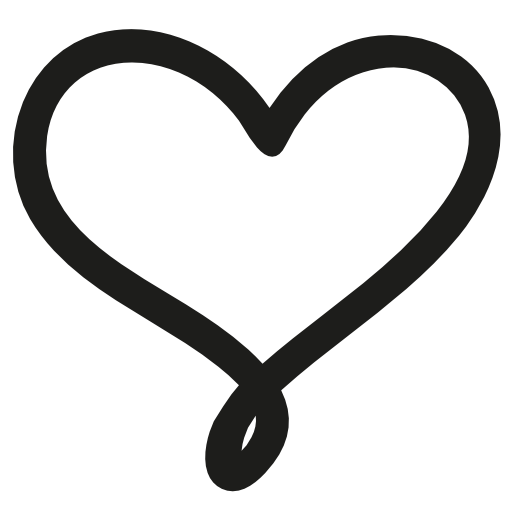 Caring Students
If you see any of the following:

• Another student struggling to make friends.
• Another student being picked on.
• A student who is shy or not with the 'in' crowd.
• A studemt who is eating lunch by themselves.

BE A LEADER! BE A GENERAL!
Say hi. Smile at them. Ask if you can sit with them. Include them in an activity.
You never know what that person is facing inside or outside of school.

YOUR KINDNESS WILL MAKE A DIFFERENCE IN SOMEONE'S LIFE.

---
Dress Code - 2019-20

USG Dress Code - English
USG Dress Code - Español