Return to Headlines
I am #TeamOKCPS: Carrie Coppernoll Jacobs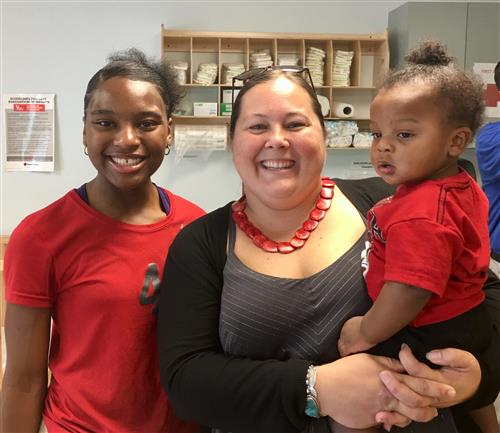 Carrie Coppernoll-Jacobs, holds son of US Grant student and Teen Parent during a visit to Little Generals, the High School's daycare for teen parents.
---
Carrie Coppernoll Jacobs has been part of the OKCPS Board of Education for the past three years. A native of Mountain Home, Arkansas, she moved to Oklahoma after she obtained her journalism degree from the University of Arkansas to start a job as a reporter at the Oklahoman. A wife, mother of two children, and owner of two dogs—one that behaves and one that, well…not so much—Carrie has a busy life juggling her time between her job, serving in the OKCPS Board of Education, and her family.
In the little free time she has, she enjoys reading and traveling. Carrie represents twelve schools in District 3: Adams Elementary, Buchanan Elementary, Cleveland Elementary, Jackson Enterprise Elementary, Kaiser Elementary, Linwood Elementary, Mark Twain Elementary, Pierce Elementary, Rockwood Elementary, Westwood Elementary, Taft Middle School and Northwest Classen High School.
What is your favorite part of being a board member with OKCPS?
"I love serving in the OKCPS board because it can directly benefit our students and staff. Everyone on the board has a deep desire for our students to be successful, and being a part of tangible, positive change is absolutely awesome."
What is the most challenging part of being a board member with OKCPS?
"The most difficult part of serving as a school board member is the time some changes can take. It's more important to be right than to be fast, but I just wish everything could be right and fast. We have to plan for the long-term, but we also have to make sure we're doing the very best we can for students who are in school today."
In your opinion, how would you describe the importance of having a board of education and board members?
"Our board is wonderfully diverse in many ways. The board has to shape policy and goals for the whole district — not just where our children may attend or just in our individual neighborhoods. Our diversity is our strength. We bring so many points of view to every discussion. We all have our own lens on the world. That is incredibly important when we talk about the best way to educate children."
As a board member, what do you most fervently stand for and what would you like to see accomplished in the school district?
"Long-term, big-picture planning. We have to make big decisions — even when they're hard, even when they might hurt. I am especially proud of Pathway to Greatness and the policy work we have accomplished."
Aside from being a board member, do you hold any other job(s)? If so, where do you work and what is your title there?
"I work on the communications team at the Oklahoma Education Association, the largest teacher's organization in the state. (As a note, Oklahoma City Public Schools bargains with an affiliate of the American Federation of Teachers — not OEA.)"
What does your typical day look like?
"Herding my children to school, working my tail off for teachers, school board meetings or visits, then home. It's a busy time, but I love it."
What do you like to do in your free time?
"Um, what is that? Read and travel."
Tell us about your family. Do you have pets?
"We have two daughters. Mia is in third grade, and Wren will start pre-k in August. My husband and I celebrated our 10th anniversary this year. We have two dogs — one that behaves and one that does not."
Do you have any hidden talents?
"I can paint!"
What is the one book or film that everyone should read or watch?
"That's a trick question. There are too many books in the world to choose! I'm a big fan of non-fiction. A good one I read recently is The Other Wes Moore. It's a good reminder of how close any of us can be to a whole different path in life."