Return to Headlines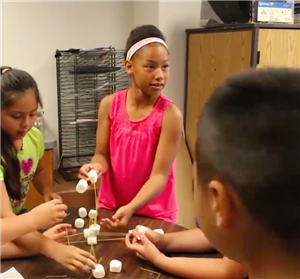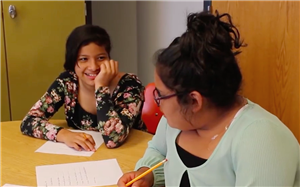 Running Out of STEAM
Eugene Field STEAM Summer Academy might come to an end
During the month of June, Eugene Field Elementary was not empty due to summer break. On the contrary, every day, the school was filled with active students who were eager to learn, dance, imagine, and play at the school's STEAM Summer Academy.
The program, which began four years ago both at Eugene Field Elementary and F.D. Moon Academy, provides learning experiences in Science, Technology, Engineering, Arts, and Math through after school programs and summer academy—all offered at no cost.
"The program was put together through a grant that the City of Oklahoma City gave to the Strong Neighborhoods Initiative," said Paige Bressman, Principal at Eugene Field Elementary. "Their main goal is to revitalize neighborhoods that need help and both our neighborhood and that of F.D. Moon Academy were chosen four years ago."
Since then, both elementary schools have offered a wide scope of activities and learning experiences in STEAM areas. From swimming lessons to arts and crafts, chess, coding, math, music, and hip hop dance lessons—the options are numerous and activities change each school year to keep students interested.
This year, in addition to the many summer academy activities, students also had the opportunity to go on field trips and visit the Oklahoma City Science Museum, the Pilot Recreation Center, stroll through downtown and see the newly added trolley cars, and get ice cream—all for free.
The program also allows for external professionals in STEAM areas to visit the schools and teach students. "We have external people who come in from different organizations to do activities with the students," said Bressman. "The Oklahoma After School Network (OKAN) is the entity in charge of finding qualified providers who come to the school to teach kids during the after school program and summer academy," she explained.
For students, the experience is a fun and hands on way to learn, develop their creativity and try different activities. "I feel like the summer academy gives us an opportunity to learn fun things, interact with other people, and be outside instead of staying at home with electronics all day," said Berta Perez, a 5thgrader who attended the summer academy at Eugene Field Elementary. "My favorite part has been going swimming. They teach students how to swim and those of us who already know how to do it can just have fun and swim at the pool," she said.
Alexia Nelson, 5thgrader and second time STEAM summer academy participant, said that besides swimming, her favorite activity was going on field trips and visiting the science museum. She explained that the program is also very convenient for her working parents. "My parents supported me when I told them that I wanted to participate in the summer academy again this year," she said. "They both work during the day so they are happy that I am being looked after and fed at the summer academy."
The STEAM after school program and summer academy have been a great success in these communities. The revitalization in the Eugene Field neighborhood has been so positive that, unfortunately, it no longer qualifies for the grant that brought STEAM into the school's classrooms.
Sheryl Lovelady, Oklahoma After School Network Executive Director, explained that combined, F.D. Moon Academy and Eugene Field Elementary have received over $1 million over the past four years to run the STEAM program. "It costs approximately $130,000 to run the program at one school for Fall, Spring, and Summer," said Lovelady. "Although the Eugene Field neighborhood no longer qualifies for the grant, the City of Oklahoma City and the Great Neighborhoods Initiative are willing to continue the program and provide half of the funding for next school year if Eugene Field Elementary is able to find corporate funding for the remaining $50,000 that are needed," she added.
"This might possibly be the last summer that we get to conduct this wonderful STEAM program, and that is very sad for all of us," said Paige Bressman. "If we could obtain corporate sponsorship, we would be able to continue doing the summer academy and after school program next school year. We really hope that community partners will step in and help us to continue this fantastic initiative. The future of the program at Eugene Field depends on it," she said.
For questions and additional information on how to donate, please visit www.okafterschool.org/or contact Sheryl Lovelady, Executive Director of the Oklahoma After School Network at sheryl@okafterschool.org