Return to Headlines
Oklahoma City Chapter of The Links, Inc. Donates "PoSITivity Bench" to Sunbeam's Edwards Early Education and Community Hope Center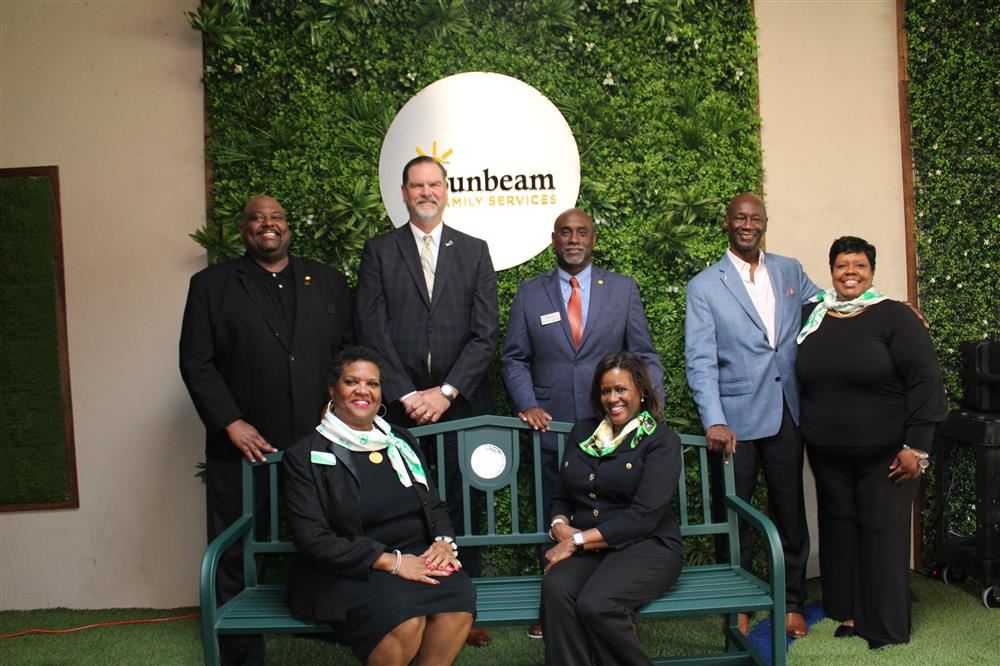 Back Row (Left to Right): Chris Harrison (Sunbeam Board President); Dr. Sean McDaniel (Superintendent of Oklahoma City Public Schools); Anthony Stafford (Sunbeam Senior Program Director); Senator George Young (Oklahoma Senate District 48); Felecia Moriels (Oklahoma City Chapter of The Links, Incorporated President )
Front Row (Left to Right): Maggie W. Green (Co-Chairman PoSITivity Bench Committee with Oklahoma City Chapter of The Links, Incorporated); Collette Houchen (Chairman PoSITivity Bench Committee of Oklahoma City Chapter of The Links, Incorporated)
(Oklahoma City) - The Oklahoma City (OK) Chapter of The Links, Incorporated, donated a "PoSITivity Bench" to Sunbeam Family Services. The bench is located at Sunbeam's Edwards Early Education and Community Hope Center.
"This community service initiative brings together several of our national programs that include anti-bullying, friendship and mental health as core tenants," said Chairman Collette Houchen. "We wanted to help enhance the positive school environment with the placement of our PoSITivity bench at Edwards Early Education and Community Hope Center, where we want to help with the building of strong families. Under the leadership of Chairman, Mrs. Collette Houchen and Co-Chairman, Mrs. Maggieann W. Green, this is one of 85 PoSITivity Benches installed across 70 communities in the Central Area of The Links, Incorporated."
Speakers at the dedication included: Senator George Young, Oklahoma Senate District 48; Oklahoma City (OK) Chapter of The Links, Incorporated President Felecia Moriels; Chairman PoSITivity Bench Committee of Oklahoma City (OK) Chapter of The Links, Incorporated Collette Houchen; Sunbeam Board President Chris Harrison; Superintendent of Oklahoma City Public Schools Dr. Sean McDaniel; Sunbeam Senior Program Director Anthony Stafford and Co-Chairman PoSITivity Bench Committee with Oklahoma City (OK) Chapter of The Links, Incorporated Maggie W. Green.
"It was an honor to be part of the 'PoSITivity bench' dedication event. The support provided to our families and communities through organizations like the Sunbeam's Edwards Early Education and Community Hope Center and The Link, Incorporated are invaluable. Partnerships like these can and will have a lasting impact on the families in the OKCPS community, and for that I am grateful", said OKCPS Superintendent Dr. Sean McDaniel. "A bench can be the catalyst for a great conversation, and I believe great things are born from great conversations."
Edwards Early Education Center, which is located in the former OKCPS Edwards Elementary School, opened last fall and provides services, support and resources for children and families in Northeast Oklahoma City. Sunbeam is proud to offer increased access to high-quality early care and education opportunities for babies and toddlers. Families also have access to wrap-around family support.
Edwards Community Hope Center offers on-site mental health services, including therapy, training, and support groups for parents, grandparents who are raising their grandchildren, caregivers and more.
For more information about Sunbeam, or Edwards, visit SunbeamFamilyServices.org or call (405) 605-7090.
The Oklahoma City (OK) Chapter of LINKS, Incorporated was chartered in November 1957. Since its charter, the women of the Oklahoma City (OK) Chapter have promoted and engaged in educational, civic and intercultural activities in order to enrich the lives of its members and the larger community. The chapter is a national award-winning chapter for producing unprecedented programming that transforms the communities and individuals served. Felecia Moriels is the chapter president. PoSITivity Bench Committee Members: Chairman Collette Houchen, Co-Chairman Mrs. Maggie W. Green, Dr. Belinda Biscoe, Tamara Griffin and Felecia Moriels.
###
About Sunbeam Family Services
Founded in 1907, Sunbeam's mission is to build brighter futures with all children and families. Sunbeam, a United Way of Central Oklahoma Community Partner, is one of Oklahoma's longest-serving nonprofits. To learn more, call (405) 528-7721, visit SFSok.org or join the conversation on Facebook, Twitter and Instagram.
About The Links, Incorporated
The Links, Incorporated is an international, not-for-profit corporation, established in 1946. The membership consists of more than 15,000 professional women of color in 288 chapters located in 41 states, the District of Columbia, the United Kingdom and the Commonwealth of the Bahamas. It is one of the nation's oldest and largest volunteer service organizations of extraordinary women who are committed to enriching, sustaining and ensuring the culture and economic survival of African Americans and other persons of African ancestry.