Return to Headlines
OKCPS RECOGNIZES EMBRACE OKC CHAMPIONS IN AN INAUGURAL PROGRAM
(Oklahoma City, OK) - Oklahoma City Public Schools (OKCPS) is celebrating our EmbraceOKC Champions. These leaders stood out for their dedication and contribution to the mental health needs of OKCPS families and students.
EmbraceOKC is a comprehensive approach to providing a school-based system of support for OKCPS students and families that involves community partnerships, high-quality tiered academic, behavioral strategies, and mental health services that range from prevention to treatment.
The OKC Public Schools Compact is a collective impact model whose partners are the Oklahoma City Public Schools, the Oklahoma City Chamber, the Oklahoma City Public Schools Foundation, the United Way of Central Oklahoma, and the City of Oklahoma City to support improvements identified by the Oklahoma City Public Schools. OKCPS worked with our partner at the state level, the Oklahoma State Department of Mental Health, to administer the Oklahoma Prevention Needs Assessment (OPNA) survey to more than 7,000 of our students in 6th, 8th, 10th and 12th grades.
"Thank you to our Compact partners for their role in making sure we can regularly assess the needs of our students using the OPNA survey," said Jason Brown, OKCPS Deputy Superintendent. "The survey results gave us the data we needed to create a comprehensive, district-wide mental health action plan to address some of the unique challenges that OKCPS students and families experience. We are now better prepared to promote better mental health and we are excited to recognize leaders who helped implement and prioritize these findings in their schools."
"The following individuals were nominated because they have embraced mental health as preventable and treatable, protected children's mental health and helped ensure that their school is a sanctuary of safety and support," said OKCPS Director of Mental Health, Armisha Harrison. "I would like to say 'thank you' to our Champions for embracing these tools to make OKCPS an emotionally safe community."
HIGH SCHOOLS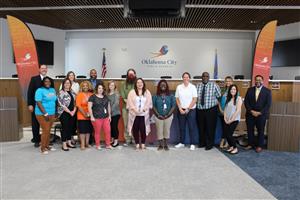 Capitol Hill High School
Tasha McLellan - Counselor
Classen SAS at Northeast
Jocelyn Trager - Counselor
Douglass High School
Kevin Jones - Principal
Emerson North High School
Zachary Gleason - Teacher
Emerson South Mid-High School
Samantha Eggleston - Teacher
John Marshall Enterprise High School
Michelle Reece - Counselor
Northwest Classen High School
Claudia Rivas-Taylor - Counselor
Southeast High School
Maya Johnson - Band Director
Star Spencer Mid-High School
David Mosely - Teacher
US Grant High School
Stormy Griffith - Coach and Teacher
MIDDLE SCHOOLS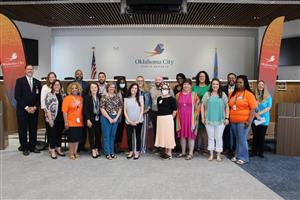 Belle Isle Enterprise Middle School (Grades 5-6)
Sally Berry - Principal
Belle Isle Enterprise Middle School (Grades 7-8)
Brandon Bennett - Teacher
Classen SAS Middle School
Sarah Moore - Teacher
Capitol Hill Middle School
Laniesa Williams - Counselor
Jefferson Middle School
Katie Brown - Assistant Principal
John Marshall Enterprise Middle School
Geri Hemphill - Assistant Principal
Mary Golda Ross Middle School
Sergio Arandas - Teacher
Roosevelt Middle School
Christine Hays - Teacher
Southeast Middle School
Katherine Brooks - Teacher
Taft Middle School
Kim Landers - Principal
Webster Middle School
Sara Oudsi - Counselor
Wheeler Middle School
Deserae Jackson - Principal
ELEMENTARY SCHOOLS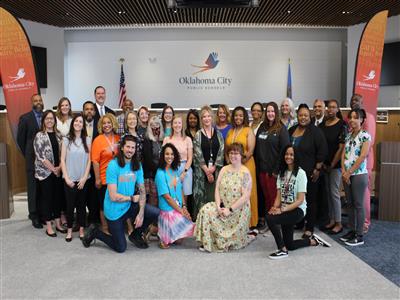 Adams Elementary School
Pam Miller - Counselor
Adelaide Lee Elementary School
Amber Stephens - Counselor
Arthur Elementary School
Candace Vaenedoe - Counselor
Bodine Elementary School
Meondrial Lewis - Paraprofessional
Britton Elementary School
Heather Reinschmeidt - Counselor
Cesar Chavez Elementary School
Jackie Staggs - Assistant Principal Intern
Coolidge Elementary School
Tracie Layman - Counselor
Esperanza Elementary School
Theresa Blanchard - Counselor
Eugene Field Elementary School
John Roberts - Counselor
Fillmore Elementary School
Nancy Ross - Counselor
Hayes Elementary School
Ladonna Martin - Counselor
Heronville Elementary School
Jill Carson - Counselor
Hillcrest Elementary School
Aubrey Moyer - Reading Specialist
Martin Luther King Elementary School
Jessica Johnson - Assistant Principal
Monroe Elementary School
Malisa Hepner - Counselor
Nichols Hills Elementary School
Angela Oliver - Counselor
Thelma Parks Elementary School
Jonelle Polk - Assistant Principal
Prairie Queen Elementary School
Kadessa Upchurch - Teacher
Quail Creek Elementary School
Michelle Harrison - Family Advocate
Ridgeview Elementary School
Sena Sweat - Counselor
Rockwood Elementary School
Susan White - Counselor
Rogers Elementary School (Grades 4-6)
Martin Rivers - Counselor
Shidler Elementary School
Armondo Ayala - Principal
Southern Hills Elementary School
Erin Thompson - Teacher
Spencer Elementary School (Grades 2-3)
Antonie Gilliam - Paraprofessional
Van Buren Elementary School
Cormiere Bishop - Counselor
Willow Brook Elementary School
Nadiriah Burris - Counselor
Wilson Elementary School
Lee Acres - Counselor