Welcome to Classen School of Advanced Studies

High School @ Northeast






Click the above link to learn more about specific summer learning course requirements, skill development offerings, and athletic coach information.



2023-24 FRESHMEN ORIENTATION!
ALL INCOMING FRESHMEN!
SAVE THE DATE
AUGUST 9, 2023
8:00 AM - 10:30 AM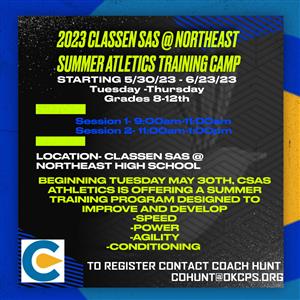 Mission
The Classen School of Advanced Studies' mission is to ensure that all students learn at high levels to become high-quality, academically prepared, global citizens.
Vision
Our vision is to develop healthy, creative, and innovative citizens and ensure a successful transition for graduates by providing quality instructional programs that prepare students for college, university, or conservatory/fine arts institutions.



Administration
Principal
Mr. Scot McAdoo - shmcadoo@okcps.org

Assistant Principal
Mr. Mitch McIntosh - mkmcintosh@okcps.org

Assistant Principal
Dr. Misti Tope - mtope@okcps.org


---
School Hours

8:20 am - 3:10 pm
---
Contact
Map Address
3100 N Kelley Ave, Oklahoma City, OK 73111

Office: (405) 587-5400
Attendance Line: (405) 587-5415
Fax: (405) 587-5404


---