Return to Headlines
1/8/2021 Message from McDaniel | Weekly Update
OKCPS Families & Staff -
Welcome back to our Spring Semester! I hope you enjoyed the break and were able to find some time to rest and recharge as you celebrated the holidays. The start of a new year is usually a time of great hope and excitement, however, this year seems to have also brought with it some mixed emotions as we continue to battle COVID-19 and as our nation moves through one of the most historic presidential transitions.
While the central purpose of this message is to update you on our Return To Campus, it's hard to focus -- even on something as all-encompassing as a global pandemic -- in the midst of the events that occured in Washington D.C. on Wednesday afternoon. It's important that you know that I fervently condemn the actions of every individual who dared encourage or participate in Wednesday's violent siege of our nation's Capitol.
I am saddened and angered that the precious school-aged children of our country, this state and our district had to witness such a travesty. And like so many educators around the country, I am deeply appreciative of our teachers who took on the incredible responsibility, as they so often do, of listening, explaining and helping to console our students when classes resumed yesterday morning. One again, and even in a virtual setting, they made OKCPS classrooms a safe space for our kids in the midst of turmoil and tragedy.
Watching all of this transpire, I couldn't help but think back to last summer when our students marched against racial injustice and in support of equitable opportunities and programs for all students. They did so passionately and respectfully, concluding their march with a peaceful rally...one that made an indelible impression upon me. As is so often the case, we can learn a lot from our children and I wish that those who want to be heard would look to their example, as opposed to the violence we saw perpetrated by some of the adults in Washington D.C.
Although 2021 is off to a bit of a tumultuous start, rest assured that #TeamOKCPS remains keenly focused on students as we work to ensure they have a safe and engaging 2nd half of the school year.
OKCPS Return To Campus
Before the break, we shared with you that after consulting with our partners at Oklahoma City-County Health Department (OCCHD), OKCPS would begin the second semester with all students in a remote setting for two weeks, and then gradually return students to classrooms in an A/B setting beginning January 19 with our youngest learners and high-need groups as the priority. And, after reconnecting with our public health partners again today, that is still our intention. That said, we have made a few minor adjustments to our plan, which are noted below in RED:
January 19, 2021
Students in grades PK-4th will Return to Campus for in-person learning in A/B setting for the remainder of the month of January

Because Rogers Elementary is unique in that it is an elementary school that serves students in grades 4, 5 and 6, we have made the decision to bring all of our Rogers students back for in-person learning during this phase of the OKCPS Return to Campus plan. This shift means that all Rogers students will return for in-person learning in the A/B setting on Tuesday, January 19th.

Additional small groups of students will return to campus for in-person learning:

All Special Education students PK-12 who are served in a self-contained classroom setting (AU, ID, MD, Hearing Impaired, Vision Impaired,

and

ED) will now attend for a full day, four days a week (Tuesday - Friday) beginning Tuesday, January 19th. Our teachers will be connecting with our families who are included in this group.

Alternative Education Students (Putnam Heights, Emerson North & Emerson South) will transition to the A/B setting

Students in our HOPE program will transition to the A/B setting

Children in Workplace Program

will continue for children of employees

Students in grades 5th-12th will continue with Remote Learning
February 1, 2021
Consider bringing students in grades 5th - 12th back for in-person learning in A/B Setting
As promised, our district leadership team will continue to review internal data and will work closely with our local health officials to adjust our plan moving forward. Right now, we intend to begin bringing our youngest learners and those with high-need back to campus on January 19. If that changes, we'll let you know as soon as possible. That said, our ability to return to campus in any way is ultimately based on the outcomes of the choices that we continue to make as a community. OKCPS will not consider a full-time return for students until it is safe to ease up on physical distancing in our classrooms.
Supports & Reminders
District leaders met with officials from OCCHD this week to discuss the COVID-19 vaccine deployment plan for Oklahoma County and for our district staff. It will likely be several weeks before the vaccine is available to educators in our county, but rest assured we will be ready. In the meantime, we are grateful for our partnership with our state and local public health leaders and for the heroic efforts of frontline healthcare workers and first responders around the world.
OKCPS remains committed to supporting you in every way possible. Below are some resources for families and staff:
58-STUDY (587-8839) for academic support and 587-HELP (4357) for technical support, and our Student Services Team is also available for emotional support and crisis intervention at 587-0489.

OKCPS Employee Assistance Program

is available to district staff for emotional support, legal and financial guidance and much more at no cost.

2-1-1 HeartLine is open 24/7 for help with counseling, rental assistance, food pantries, affordable housing, health resources, child care, after-school programs, caregiver support, financial programs, literacy, and job programs. As always, please call 911 for emergencies.

If you or someone you know is thinking about suicide, call 2-1-1 or the National Suicide Prevention Lifeline 800-273-TALK (8255) for 24/7 support.
As we move toward bringing students back to campus, the health and safety of our students, families and staff remains our priority. OKCPS' Six-Point Safety Plan, which includes improved site-based contact tracing, an innovative air ionization system for every classroom/workspace and the launch of on-site rapid COVID-19 testing for staff and their families, is a direct reflection of that commitment. However, we all must remain vigilant in our hygiene and safety protocols, get tested if we believe we've been exposed, and do our part if we hope to help mitigate the spread of this virus.
Let's choose to embrace the hope that comes with a new year and continue to take care of ourselves and each other. Stay safe, everyone.
Dr. Sean McDaniel
OKCPS Weekly COVID-19 Cases
Today, the Oklahoma State Department of Health (OSDH) indicates that the cases per 100,000 for Oklahoma County are 70.0, as compared to 53.4 last week, leaving Oklahoma County in the OSDE's Red Alert Level.
Each Friday, OKCPS reports the number of "self-reported" positive COVID-19 cases, along with the number of individuals who have been asked to isolate due to potential exposure to the virus.
"Close Contact" Exposure refers to the number of cases when a staff member or student was in "close contact" with a person who has tested positive for COVID and has been asked to isolate. "Close contact" as defined by the Centers for Disease Control and Prevention occurs when an individual is within 6 feet of an infected person for at least 15 minutes starting from 2 days (or 48 hours) before the infected person's onset of symptoms.
Self-Reported Positive Cases refers to the number of cases when a staff member or student has notified OKCPS of positive results from a COVID-19 test.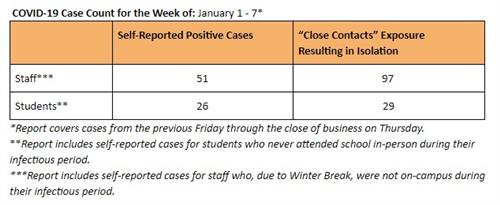 COVID-19 Reporting
Staff
OKCPS employees who work at a school building (with the exception of SNS staff) should report a positive COVID-19 test or exposure to your principal and/or your school's contact tracer.
OKCPS employees who work at the Clara Luper Center for Educational Services, the Operations Center, Student Support Services at Westwood should report a positive COVID-19 test or exposure by calling the district's COVID-19 line, (405) 587-CV19. SNS staff members should also use the CV19 line to report a positive COVID-19 test or exposure.
Families
Families should report student positive test results for COVID-19 or exposure to a positive case by calling their child's school. The school's designated contact tracer will provide instructions related to isolating and receiving instruction remotely during the isolation period.