Return to Headlines
Message from OKCPS Board Chair Regarding Superintendent Resignation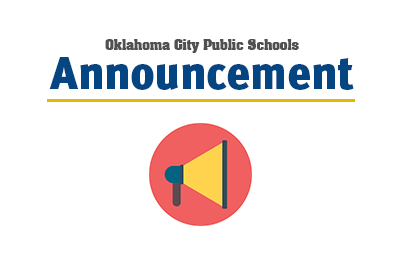 This morning, OKCPS Superintendent Aurora Lora submitted a letter of resignation (shown below) to the OKCPS Board of Education. A timeline as to when her resignation will take effect is still pending. The OKCPS Board of Education will convene this evening for the previously scheduled Special Meeting at 6:15pm.
As is typical, during the Superintendent's absence, Chief of Staff Rebecca Kaye will serve as the primary point of contact for District leadership matters.
OKCPS will share additional details as they become available. Thank you in advance for your understanding.
Paula Lewis
Chair, OKCPS Board of Education
____________________________________________
January 30, 2018
Dear Board Members,
It is with mixed emotions that I submit my resignation as superintendent of the Oklahoma City Public Schools.
During my tenure as superintendent, our district has had some great successes that we accomplished together:
We have implemented new, more rigorous standards to better prepare our students to be successful after high school.

We have increased the number of Advanced Placement exams being taken in our district and have all of our high schools participating in the College Board's "All In" Challenge in order to better prepare them for success on the PSAT/SAT.

We have implemented the "Summit Basecamp" personalized learning program at 8 schools with plans to continue expansion to additional schools next year.

We started an Office of School Climate & Culture to provide more discipline support and coaching for schools. Our overall suspensions are down 30% and long-term suspensions are down 81% since 2014-15.

We passed a $180M bond which has allowed us to provide maintenance to our aging facilities, purchase new school buses, and upgrade our technology in schools.

We applied and were awarded district "Community Eligibility Provision" status which means that every child at every school now eats for free in OKCPS.

We worked with the OKC Compact to develop a Mental Health Task Force and identified funding to increase the number of counselors and social workers in OKCPS schools.

We have taken a number of courageous actions to make sure that every child in this district knows they are important, loved and appreciated because of the diversity and talents they bring to our district. We now teach about the Land Run and Thanksgiving in more culturally responsive ways. We passed a resolution supporting LGBTQ students and employees. We are about to start the process of changing the names of the three schools that were named after Confederate generals.
I am proud to say that we accomplished those things despite the fact that the state funding crisis forced me to cut $30M from the budget in my first 30 days as superintendent. We eliminated 200 teaching positions, 100 administrative/central office positions, and 100 operations positions. We canceled textbook purchases, made cuts to arts and athletics, and eliminated supply budgets. We closed two schools and shortened our school year in order to get through that first round of cuts.
One year later, the budget situation went from bad to worse. The cuts deepened. Class sizes got larger. The legislature failed to pass a teacher raise, causing our teacher shortage across Oklahoma to worsen.
This has been an incredibly challenging few years for districts across the state of Oklahoma, but I am proud of the work that we have done together to help our district stretch every penny and identify ways to save money by becoming more efficient in our operations. The lessons learned will allow us to reinvest more dollars back into classrooms when the funding returns.
Our board has gone through some transitions during my time here and I believe that it is now time for me to step aside and allow you to come together as a team to find a leader that will be right for you as a new board. I am prepared to work with your legal counsel to determine the details involved with the transition.
There is a lot of work still to be done in this district, but there is an amazing team of dedicated teachers, principals, support staff, central office administrators, and senior leadership team members who are here to support you.
Thank you so much for giving me the opportunity to serve the students and families of this community. Please know that Oklahoma City will always hold a special place in my heart.
Respectfully,
Aurora Lora
Superintendent
Oklahoma City Public Schools
---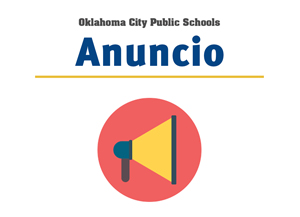 La mañana de hoy, la superintendente de OKCPS Aurora Lora presentó una carta de renuncia (que se muestra a continuación) a la Junta de Educación de OKCPS. Aún está pendiente una línea de tiempo sobre cuándo su renuncia entrará en vigencia. El Consejo de Educación de OKCPS se reunirá esta tarde para la Reunión Especial previamente programada a las 6:15 p.m.
Como es típico, durante la ausencia del Superintendente, la Jefa de Personal, Rebecca Kaye, servirá como principal punto de contacto para asuntos de liderazgo del distrito escolar.
OKCPS compartirá detalles adicionales a medida que estén disponibles. Gracias de antemano por su comprensión.
Presidenta, Junta de Educación de OKCPS
____________________________________________
Estimados miembros de la Junta de Educación:
Es con emociones mixtas que presento mi renuncia como superintendente de las Escuelas Públicas de Oklahoma City.
Durante mi mandato como superintendente, nuestro distrito ha tenido grandes éxitos que hemos logrado juntos:
Hemos implementado estándares nuevos y más rigurosos para preparar mejor a nuestros estudiantes para que tengan éxito después de la escuela preparatoria.

Hemos aumentado el número de clases con créditos universitarios y todas nuestras escuelas preparatorias participan en el Desafío "All In" del College Board con el fin de prepararlos mejor para el éxito en el PSAT / SAT.

Hemos implementado el programa de aprendizaje personalizado "Summit Basecamp" en 8 escuelas con planes de continuar la expansión a escuelas adicionales el próximo año.

Comenzamos una Oficina de Clima y Cultura Escolar para proporcionar más apoyo disciplinario y entrenamiento para las escuelas. Nuestras suspensiones generales han bajado un 30% y las suspensiones a largo plazo cayeron un 81% desde 2014-15.

Aprobamos un bono de $180M que nos ha permitido proporcionar mantenimiento a nuestras antiguas instalaciones, comprar nuevos autobuses escolares y actualizar nuestra tecnología en las escuelas.

Aplicamos y obtuvimos el estado de "Provisión de Elegibilidad Comunitaria" del distrito, lo que significa que cada niño en cada escuela ahora desayuna y almuerza gratis en OKCPS.

Trabajamos con el OKC Compact para desarrollar un Grupo de Trabajo de Salud Mental e identificamos fondos para aumentar el número de consejeros y trabajadores sociales en las escuelas de OKCPS.

Hemos tomado una serie de medidas valientes para asegurarnos de que todos los niños de este distrito sepan que son importantes, amados y apreciados por la diversidad y los talentos que aportan a nuestro distrito. Ahora enseñamos sobre el 'Land Run' y el Día de Acción de Gracias en formas más receptivas culturalmente. Aprobamos una resolución que apoya a los estudiantes y empleados LGBTQ. Estamos a punto de comenzar el proceso de cambiar los nombres de las tres escuelas que fueron nombradas como generales confederados.
Me enorgullece decir que logramos estas cosas a pesar del hecho de que la crisis de financiamiento estatal me obligó a recortar $30 millones de dólares del presupuesto en mis primeros 30 días como superintendente. Eliminamos 200 puestos de docencia, 100 puestos administrativos de oficinas centrales y 100 puestos de operaciones. Cancelamos compras de libros de texto, hicimos recortes en artes y atletismo, y eliminamos los presupuestos de útiles escolares. Cerramos dos escuelas y acortamos nuestro año escolar para superar esa primera ronda de recortes.
Un año después, la situación presupuestaria fue de mal en peor. Los recortes se profundizaron. Los tamaños de las clases se hicieron más grandes. La legislatura no aprobó un aumento de sueldo para maestros, lo que causó que la escasez de docentes en Oklahoma empeorara.
Han sido unos años increíblemente desafiantes para los distritos de todo el estado de Oklahoma, pero estoy orgullosa del trabajo que hemos hecho juntos para ayudar a nuestro distrito a estirar cada centavo e identificar formas de ahorrar dinero al ser más eficientes en nuestras operaciones. Las lecciones aprendidas nos permitirán reinvertir más dólares en las aulas cuando vuelva el financiamiento.
Nuestra junta de educación ha pasado por algunas transiciones durante mi tiempo aquí y creo que es hora de que me aparte y permita que se reúnan en equipo para encontrar un líder que sea adecuado para ustedes como nueva junta de educación. Estoy dispuesta a trabajar con su asesor legal para determinar los detalles relacionados con la transición.
Todavía hay mucho trabajo por hacer en este distrito escolar, pero hay un increíble equipo de maestros dedicados, directores, personal de apoyo, administradores de la oficina central y miembros del equipo de liderazgo que están aquí para apoyarlo.
Muchas gracias por darme la oportunidad de servir a los estudiantes y las familias de esta comunidad. Por favor, sepan que Oklahoma City siempre tendrá un lugar especial en mi corazón.
Oklahoma City Public Schools