Return to Headlines
Pathway to Greatness Implementation Update - January 2020
Dear OKCPS Families, Staff & Community -
This evening, I provided the first official update to the OKCPS Board of Education on the implementation of the Pathway To Greatness, our very ambitious reinvention initiative that aligns our resources to our current status and builds a foundation for equity in the opportunities that are so important to our students, our teachers, and our families.
We're one semester in, and there's been an incredible amount of work done since our Board approved my recommendation in March 2019. Hundreds of construction projects and staff relocations, the much-anticipated Trade-Ups have come to life, the Northeast Legacy Committee has put together their recommendations, 14 of our 15 repurposed buildings have found new life, and so many other things. Certainly we have had some challenges along the way, but we are seeing some tremendous results to date.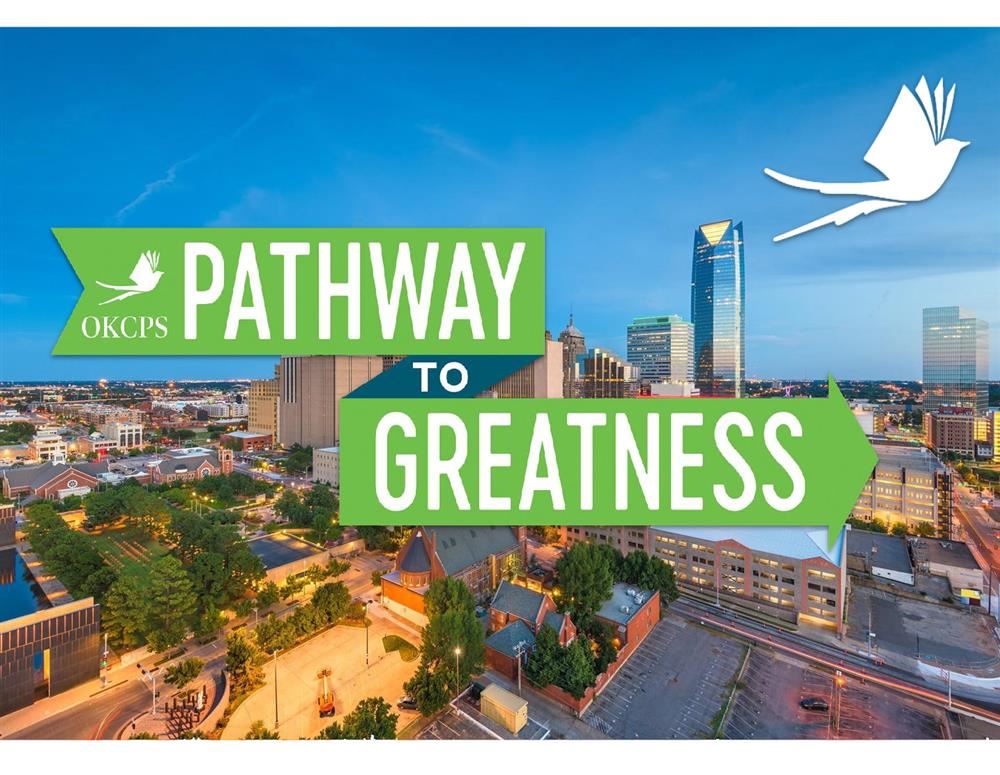 It is hard work to implement this kind of aggressive change, but we believe it's going to be worth it as our kids become the recipients of both academic and whole child benefits.
I'm so proud of our staff for taking advantage of the opportunities presented by P2G and for being willing to make and implement quick recommendations to adapt when things needed to happen for our young people. I see you supporting our students, families and each other as we move through this journey, and I hear you challenging the narrative that expanding access to high quality schools and programs through P2G is somehow harmful for the students who have been accustomed to having access to opportunity in the past.
I'm also grateful to our families for coming together to champion strong schools, whether that is in their same building or in a new location. A strong community of parents and other stakeholders working together is essential for our students, our schools and our city to thrive. Educators can't do it alone. It takes a village.
There is absolutely no way we could have even begun this journey without our unbelievable community partners. I can't say thank you enough to the businesses and individuals who live in our community, and some even outside of our community, who said, "We believe in what you're doing and we want to be a part of this journey."
But, perhaps more than anything, I'm proud of our Board of Education who over two years ago refused to accept the status quo any longer and directed us to start this journey knowing it was going to be tough, anticipating many of the challenges that come with biting off something this significant. But through it all, our board has stood with us, providing stable leadership and support with the understanding that the payoff at the end is truly going to change lives. I'm very, very proud of that.
There are some who still question whether or not the exchange was worth it -- the school closings, the attendance boundary changes, the different things that have happened over the last year and a half. Is it worth it? And I can tell you resoundingly that we're already seeing benefits for kids, and we will continue to see them.
That said, we also hear the struggles that have come with this change. Please know that we are committed to understanding the root causes of problems that continue to exist and implementing solutions. Most of the complaints we hear on a regular basis are not new problems, though they may have been below the surface. It's easy to notice only those things that are challenging or uncomfortable and to criticize. It's easy to feel like you've lost something when you now see up-close-and-personal the impact of years, maybe even generations, of inequity on young people who are now zoned into a new school and, thankfully, have access to better opportunities to learn. But, the reality is that this system has had winners and losers for a long time -- some families have had access to schools with enough resources, quality teacher teams, and reasonable class sizes and some families haven't. Now more students have these, and that means that we all win.
I have said all along that the restructuring needed to build a foundation through the Pathway to Greatness was just one essential first step to transforming OKCPS into an organization that consistently provides a high quality education to every child every day. Instead of focusing on our challenges, I encourage everyone in our community -- our business leaders, our partners, neighbors, families, educators and staff -- to find a way to get involved. The more help and encouragement we receive, the quicker our students, families and staff will see and feel the impact. We believe this is good work. We believe it's the right work. And we need to have everyone on board to help us along the way.
Many thanks for the sacrifices that you've made and the patience that you've shown thus far.
Through Pathway we have proven to ourselves and to our community that we can do hard things and follow through. It hasn't always been easy, but our P2G implementation is progressing as planned. Now, we must focus on what comes next. Our district teams will continue to identify the things that are not working well and correct those as quickly as possible. But, overall, I am very happy with the direction we are moving as a district. The most important thing for all of us right now is to stay the course. After all, this journey is a marathon - not a sprint.
The Board and I remain confident that this work is necessary to improve the health of the entire OKCPS system and to provide equity and opportunity for our students. Now more than ever, we must focus on the future. Our students deserve it and our city's long-term success depends on it. We are truly stronger together.
------
Estimadas familias, empleados, y comunidades de OKCPS:
La noche de hoy, le proporcioné la primera actualización oficial a la Junta de Educación de OKCPS sobre la implementación del proyecto Camino a la Grandeza (abreviado P2G en inglés), nuestra ambiciosa iniciativa de reinvención que alinea nuestros recursos con nuestro estado actual y construye una base para la equidad en las oportunidades, las cuales son de suma importancia para nuestros estudiantes, nuestros maestros y nuestras familias.
Llevamos un semestre y se ha realizado una increíble cantidad de trabajo desde que nuestra Junta aprobó mi recomendación en marzo de 2019. Cientos de proyectos de construcción y reubicaciones de personal, los tan esperados cambios han cobrado vida, el Comité del Legado de Northeast ha reunido sus recomendaciones, 14 de nuestros 15 edificios reutilizados han encontrado un nuevo propósito y tantas otras cosas. Ciertamente hemos tenido algunos desafíos en el camino, pero estamos viendo algunos resultados tremendos hasta la fecha.
Implementar este tipo de cambio agresivo es un trabajo duro, pero creemos que valdrá la pena a medida que nuestros hijos reciban los beneficios académicos e integrales que estos cambios traen.
Estoy muy orgulloso de nuestro personal por aprovechar las oportunidades presentadas por P2G y por estar dispuestos a hacer e implementar recomendaciones rápidas cuando las cosas necesitan suceder cuanto antes para nuestros jóvenes. Los veo apoyando a nuestros estudiantes, familias y dándose apoyo entre ellos a medida que avanzamos en este viaje, y los escucho desafiando la narrativa de quienes piensan que ampliar el acceso a escuelas y programas de alta calidad a través de P2G es de alguna manera perjudicial para los estudiantes que siempre han tenido acceso a oportunidades educativas en el pasado.
También estoy agradecido a nuestras familias por unirse para defender y abogar por escuelas sólidas, ya sea en su mismo edificio escolar o en una nueva ubicación. El tener una comunidad sólida de padres y comunidades que trabajan juntas es esencial para que nuestros estudiantes, nuestras escuelas y nuestra ciudad prosperen. Los maestros no pueden hacerlo solos. Se necesita el apoyo de una comunidad entera.
No hay absolutamente ninguna manera en que podríamos haber comenzado este viaje sin nuestros increíbles socios y organizaciones de la comunidad. No puedo agradecerles lo suficiente a las empresas e individuos que viven en nuestra comunidad, y algunos incluso fuera de nuestra comunidad, que dijeron: "Creemos en lo que están haciendo y queremos ser parte del cambio."
Pero, quizás más que nada, estoy orgulloso de nuestra Junta de Educación, que hace más de dos años se negó a aceptar el statu quo por más tiempo y nos indicó que comenzáramos este viaje sabiendo que iba a ser difícil y anticipando muchos de los desafíos que iban a venir con un cambio tan significativo. Pero a pesar de todo, nuestra Junta ha estado con nosotros, proporcionando apoyo, un liderazgo estable y el entendimiento de que el resultado final realmente va a cambiar vidas. Estoy muy, muy orgulloso de eso.
Hay quienes todavía se preguntan si el intercambio valió la pena o no: los cierres de escuelas, los cambios en los límites de asistencia escolar, las diferentes cosas que han sucedido durante el último año y medio. ¿Vale la pena? Y puedo decirles sin lugar a dudas que ya estamos viendo beneficios para los niños, y continuaremos viéndolos.
Dicho esto, también escuchamos los desafíos que han surgido con este cambio. Tenga en cuenta que estamos comprometidos a comprender las causas fundamentales de los problemas que siguen existiendo y a implementar soluciones. La mayoría de las quejas que escuchamos regularmente no son problemas nuevos, aunque pueden haber estado bajo la superficie. Es fácil notar solo aquellas cosas que son desafiantes o incómodas y criticar. Es fácil sentir que ha perdido algo cuando ahora ve de cerca y personalmente el impacto de años, tal vez incluso generaciones, de inequidad en los jóvenes que ahora se encuentran en una nueva escuela y, afortunadamente, tienen acceso a mejores oportunidades para aprender. Pero, la realidad es que este sistema ha tenido ganadores y perdedores durante mucho tiempo: algunas familias han tenido acceso a escuelas con suficientes recursos, equipos de maestros de calidad y tamaños de clase razonables y algunas familias no. Ahora más estudiantes tienen todo esto, y eso significa que todos ganamos.
Siempre he dicho que la reestructuración necesaria para construir una base a través del proyecto Camino a la Grandeza fue solo un primer paso esencial para transformar OKCPS en una organización que brinda educación de alta calidad a cada niño todos los días. En lugar de centrarnos en nuestros desafíos, animo a todos en nuestra comunidad (nuestros líderes empresariales, nuestros socios, vecinos, familias, educadores y personal) a encontrar una manera de involucrarse. Cuanta más ayuda y aliento recibamos, más rápido verán y sentirán el impacto nuestros estudiantes, familias y personal. Creemos que este es un buen trabajo. Creemos que es el trabajo correcto. Y necesitamos tener a todos a bordo para ayudarnos en el camino.
Muchas gracias por los sacrificios que han hecho y la paciencia que han demostrado hasta ahora.
A través del Camino a la Grandeza nos hemos demostrado a nosotros mismos y a nuestra comunidad que podemos hacer cosas difíciles y seguir adelante. No siempre ha sido fácil, pero nuestra implementación de P2G está progresando según lo planeado. Ahora, debemos centrarnos en lo que viene después. Nuestros equipos del distrito continuarán identificando las cosas que no funcionan bien y las corregirán lo más rápido posible. Pero, en general, estoy muy contento con la dirección en que nos estamos moviendo como distrito. Lo más importante para todos nosotros en este momento es mantener el rumbo. Después de todo, este viaje es un maratón, no un sprint.
La Junta y yo seguimos confiando en que este trabajo es necesario para mejorar la salud de todo el sistema OKCPS y proporcionar equidad y oportunidades para nuestros estudiantes. Ahora más que nunca, debemos centrarnos en el futuro. Nuestros estudiantes lo merecen y el éxito de nuestra ciudad a largo plazo depende de ello. Somos realmente más fuertes juntos.