Return to Headlines
2019-2020 Site Teachers of the Year
OKCPS staff, families and community,
I want to thank all OKCPS
teachers
for their dedication and commitment to the students of our district. It's no secret that educators play such a critical role in the lives of children.
I am honored to recognize and congratulate our

2019

-2020 OKCPS Site

Teachers

of the

Year

!
Superintendent of Schools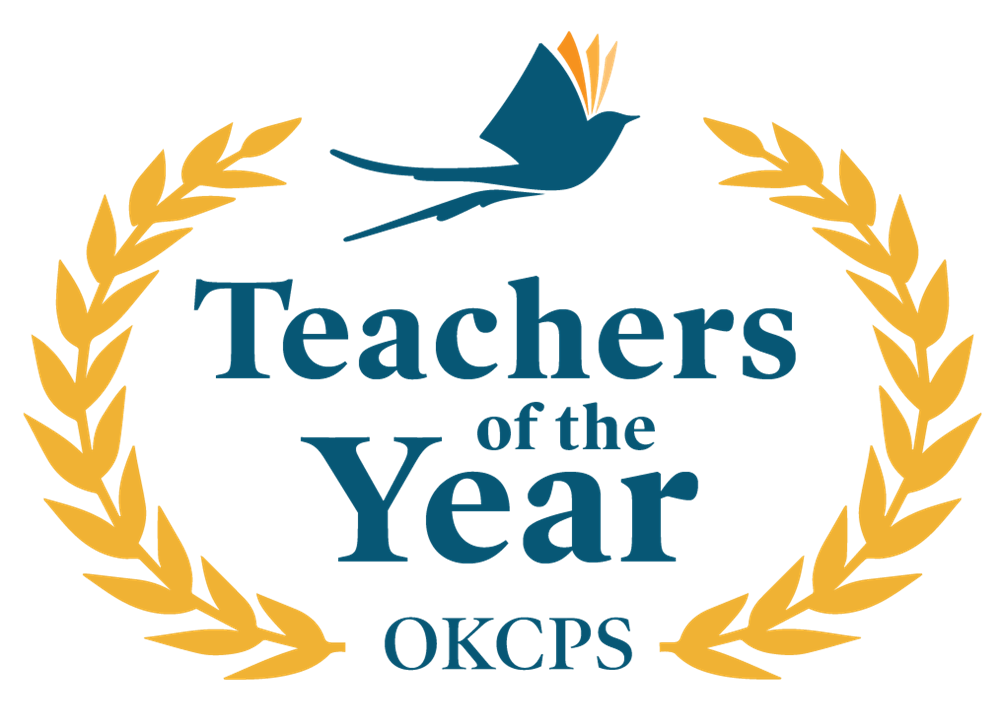 2019-2020 OKCPS Teachers of the Year
| | |
| --- | --- |
| School | Teacher |
| Adams Elementary | Victoria Ganjanathavat |
| Adelaide Lee Elementary | Lisa Lawson |
| Arthur Elementary | Sherry Irick |
| Bodine Elementary | Courtney Dean |
| Britton Elementary | Cameron Rhodes |
| Buchanan Elementary | Lorenda Raines |
| Cesar Chavez Elementary | Deborah Petersen |
| Cleveland Elementary | Leslie Davis |
| Coolidge Elementary | Angela Peake |
| Esperanza Elementary | Myriam Coquillon |
| Eugene Field Elementary | Mary Beth Rapp |
| Fillmore Elementary | Wainoke Sanders |
| Hawthorne Elementary | Nikki Hamstead |
| Hayes Elementary | Hannah Briscoe |
| Heronville Elementary | Laura Hughes |
| Hillcrest Elementary | Aubrey Moyer |
| Horace Mann Early Childhood | Nikole Debose-Hunter |
| Johnson Early Childhood | Katy (Mary) Hamilton |
| Kaiser Elementary | Michelle Cheney |
| Mark Twain Elementary | Yolundia Cleveland |
| Martin Luther King Jr. Elementary | Tammi Jones |
| Monroe Elementary | Shannon Buck |
| Nichols Hills Elementary | Jennifer Sinclair |
| Parks Elementary | Allison Stephens |
| Prairie Queen Elementary | Mariea Drain |
| Quail Creek Elementary | Cathey McGuire |
| Ridgeview Elementary | Michelle Hudson |
| Rockwood Elementary | Mary Cate Bagnell-Jones |
| Rogers Elementary | Diane Combest |
| Shidler Elementary | Lori Torbert |
| Southern Hills Elementary | Diana Steele |
| Spencer Elementary | Alicia Nichols |
| Van Buren Elementary | Lee Peacock Jones |
| Willow Brook Elementary | Sanu Sterling |
| Wilson Elementary | Kristeen Regalado |
| Belle Isle Enterprise Middle School | Kelly Baum-Sehon |
| Capitol Hill Middle School | Jeffery Woolsey |
| Classen SAS Middle School | Jeanne Parkhurst |
| F.D. Moon Middle School | Kaneta Lee |
| Jefferson Middle School | Kathleen Crawford |
| John Marshall Enterprise Middle School | Quanah Nichols |
| Mary Golda Ross Middle School | Dawn Ouellette |
| Roosevelt Middle School | Anna Rivera |
| Southeast Middle School | Jennifer Nagle |
| Taft Middle School | Amanda Girdler |
| Webster Middle School | Tayler Dallam |
| Wheeler Middle School | Danielle Hubble |
| Capitol Hill High School | Terry Sharp |
| Classen SAS at Northeast | Alisa Perkins |
| Douglass High School | Jennifer Prince |
| John Marshall Enterprise High School | Kathryn Ferguson |
| NW Classen High School | Debra Davis |
| Southeast High School | Amber Martin |
| Star Spencer Mid-High School | Chivon Gulley |
| US Grant High School | Charles Harding |
| Emerson North High School | Terry Tucker |
| Emerson South Mid-High School | Deena Thomas |
| Putnam Heights Academy | Courtney Shive |
| Extended Educational Services | Kimberly Robinson |