Return to Headlines
I am #TeamOKCPS: Amanda Girdler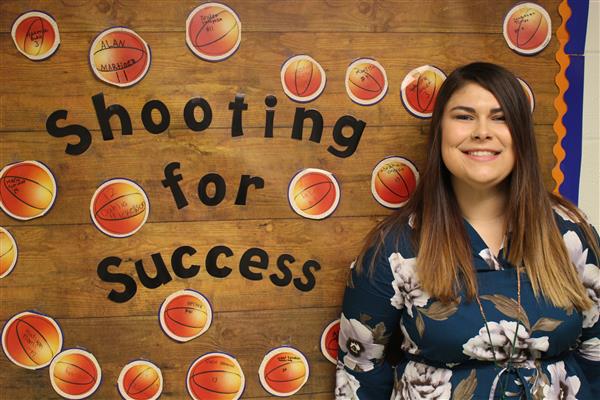 Meet Amanda Girdler, 6th grade teacher at Kaiser Elementary and a multitasker. Ms. Girdler, an alumna from Missouri Southern State University in Joplin, MO, joined the district through Teach for America. She became a teacher because she felt the calling—"it is what I was supposed to do," she explained. She has been part of Oklahoma City Public Schools for the past four years. In addition to her full time job as a teacher, she became a sports coach for the school three years ago, dedicating an additional 5-10 hours a week to coach her students—all without an extra stipend and with the sole motivation of doing more for her students. A grad school student, book worm, and an avid baker, Ms. Girdler is a dedicated and busy bee whom we are proud to have on our OKCPS team!
What is your favorite part of the job?
"My kids, without a doubt. They always amaze me with their capacity for love and forgiveness and their willingness to work hard. They are also hilarious and I adore getting to spend every day with them."
What is the most challenging part of your job?
"Time, or really the lack thereof. I constantly feel like I have all these things I'm never getting done. Between lesson planning, grad school, and other commitments, I feel like I'm always spread too thin."
What is your role as the football coach for PAL?
"I coached our school's first football team this year by myself. It was quite the experience."
How and why did you get involved with PAL and become the football coach at Kaiser Elementary?
"I started a basketball team here 2 years ago. We originally met up every Saturday and just played against a friend's team from his school. We had no basketballs, so I had to seek out donations to get some. Last year I put my name on the waitlist to participate in the PAL basketball season even though there wasn't one for the Northwest side of OKCPS. We got to play on the Northeast side against those teams and my students got second place overall. This year they opened up PAL for all of the Northwest side and I wanted our students to have the opportunity to play football, so I decided to coach it."
How long have you been the football coach?
"This is my first year coaching football and my third year coaching basketball."
How many hours a week do you dedicate to coaching?
"Coaching usually involves 5-6 hours of practice a week and during season an extra hour or two on Saturdays for games. During basketball season we are in two leagues, so it's typically more like 10 hours a week."
Who is eligible to participate in your sports team?
"I coach both boys and girls from 5th and 6th grade at Kaiser Elementary."
What do you like to do in your free time?
"I don't know what free time is! Ha! I really like to read when I have the time. Sometimes I stay up way too late just to read, it's a problem. I really like to research and read about social justice issues in my free time, too."
What has been the best movie you've recently watched or the best book you've recently read?
"I recently read 'The Tatooist of Auschwitz' by Heather Morris, it was a great read. Also, I loved 'The Hate U Give,' the movie and the book were both incredible."
Do you have any hidden talents?
"I'm not sure. I really love writing, but I'm not sure if it's really a talent. I'm a pretty good baker and treat maker. Also, I have better than perfect vision, so that's cool."
If you could time travel, when/where would you go?
"I'm not sure, this is a tough question. Probably all the way back to the time of our founding fathers so the Electoral College isn't a thing. Or maybe to the Lorraine Hotel in Memphis, Tennessee, in April 1968 to warn MLK. I firmly believe the world would've been a much better place if he'd gotten to do more work."