Return to Headlines
OKCPS Releases P2G Criteria Data
Today is a big day for OKCPS as we move forward on our Pathway To Greatness.This evening, we will host the first of five Community Meetings around the district which will allow our families, staff and community members to learn more about the process our teams will follow as we work to redesign the future of OKCPS.
We are also following through on our commitment to transparency by releasing the first two sets of raw data, which was collected based on the requirements outlined in the Facilities Master Planning Policy (Policy D-12) that was approved by our Board of Education in July 2018.
In an effort to make a data-informed decision, OKCPS is assembling data related to each of the criteria contained within Policy D-12. This data will help staff and the public understand how facilities differ from one another in relation to each criteria.
Each data release will include a one-page explanation and summary tables showing how the collected data varies by school across the District. Maps showing the location of all elementary, middle, and high schools are also provided with this summary document, along with a Criteria Checklist that will communicate the timing of each set of criteria.
Today's release focuses on information related to Location and Safety, and others will follow in the weeks to come. OKCPS plans to release all criteria data before the end of the year.
Location and Safety Criteria Data Packet - Released November 5, 2018
Datos de criterios de locación y seguridad - Publicados el 5 de noviembre de 2018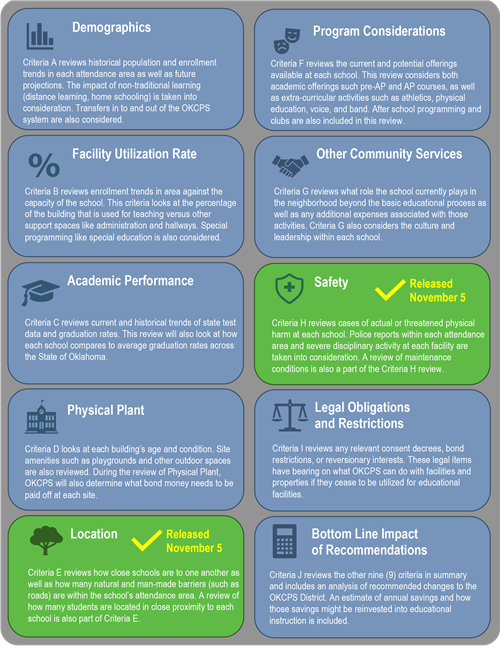 As I have said before, although hard decisions will have to be made, the Board and I are confident that this work is necessary to improve the health of the entire OKCPS system and provide equity for our students. We have to move quickly, but I hope our stakeholders will trust in the process. Data and feedback from a variety of stakeholders will be especially valuable to this work, so if given an opportunity to provide input, please take the time to do so - whether that means attending a Community Meeting, taking a survey or leaving a comment on our website. Input is essential to our success.
As with any project this large and sensitive, I am sure anxiety levels will rise and stories will begin to emerge. I ask you to adopt this simple rule of thumb: If you didn't hear it directly from me, please consider what you're hearing to be a rumor. Transparency is key, and as we move down this Pathway to Greatness, I commit to keeping you updated on our progress. The Community Meetings that begin today and this initial data release are just the beginning.
---
Hoy es un gran día para OKCPS a medida que avanzamos en nuestro Camino a la Grandeza. Esta noche, organizaremos la primera de las cinco reuniones comunitarias en todo el distrito que permitirán a nuestras familias, personal y miembros de la comunidad aprender más sobre el proceso que nuestros equipos seguirán mientras trabajamos para rediseñar el futuro de OKCPS.
También estamos cumpliendo con nuestro compromiso con la transparencia mediante el lanzamiento de los primeros dos conjuntos de data, que se recopilaron en base a los requisitos descritos en la Política de Planificación Maestra de Instalaciones (Política D-12) que fue aprobada por nuestra Junta de Educación en julio de 2018.
En un esfuerzo por tomar una decisión basada en la data, OKCPS está reuniendo data relacionada con cada uno de los criterios contenidos en la Política D-12. Esta data ayudará al personal y al público a comprender cómo las instalaciones difieren entre sí en relación con cada criterio.
Cada publicación de data incluirá una explicación de una página y tablas de resumen que muestran cómo los datos recopilados varían en todo el Distrito según la escuela que se analice. Los mapas que muestran la ubicación de todas las escuelas primarias, secundarias y preparatorias también se proporcionan con este documento de resumen junto con una lista de verificación de criterios que comunicará la fecha de lanzamiento de cada conjunto de criterios.
El lanzamiento de hoy se centra en la información relacionada con la locación y la seguridad, y otros criterios serán compartidos en las próximas semanas. OKCPS planea publicar todos los datos de criterios antes de fin de año.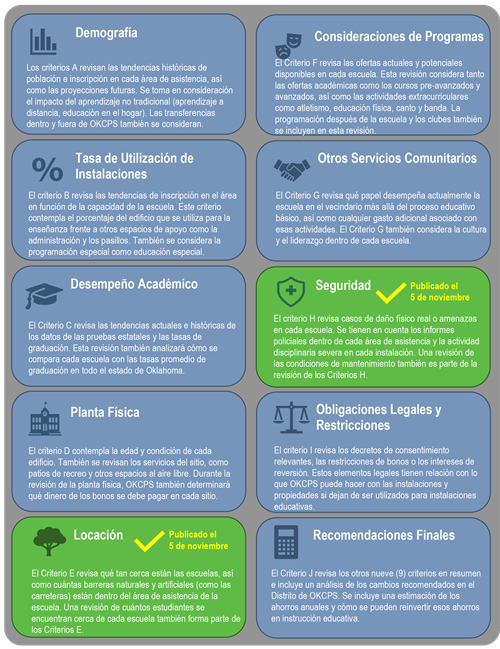 Datos de criterios de locación y seguridad - Publicados el 5 de noviembre de 2018
Como he dicho antes, aunque habrá que tomar decisiones difíciles, la Junta de Educación y yo confiamos en que este trabajo es necesario para mejorar la salud de todo el sistema de OKCPS y brindar equidad a nuestros estudiantes. Tenemos que actuar con rapidez, pero espero que nuestras partes interesadas confíen en el proceso. La data y aportes de una variedad de partes interesadas serán especialmente valiosos para este trabajo, por lo que si se le brinda la oportunidad de aportar información, tómese el tiempo para hacerlo, ya sea para asistir a una reunión comunitaria, realizar una encuesta o dejar un comentario en nuestro sitio web. Las opiniones y aportes son esenciales para nuestro éxito.
Al igual que con cualquier proyecto tan grande y sensible, estoy seguro de que los niveles de ansiedad aumentarán y las historias comenzarán a surgir. Le pido que adopte esta simple regla de oro: si no la escuchó directamente de mí, considere lo que está escuchando como un rumor. La transparencia es clave, y a medida que avanzamos en este Camino a la Grandeza, me comprometo a mantenerlo informado sobre nuestro progreso. Las reuniones de la comunidad que comienzan hoy y esta publicación inicial de datos son solo el comienzo.