Return to Headlines
11/6/2020 Message from McDaniel: Weekly COVID-19 Update
OKCPS Families & Staff,
Although some of us are still struggling with access to power and connectivity, I do hope you've had a chance to enjoy a bit of sunshine this week following our historic ice storm. Before we look ahead to next week, I want to take a moment to once again thank District teams, city crews and a number of our community partners who have been working hard to get our campuses fully operational again. Clean-up will be a long process, but we are making progress every day. More than anything, we are excited to welcome our 1st - 12th graders back for in-person learning next week!
On Monday, we'll be asking our OKCPS Board of Education to consider a calendar change to address the instructional time we lost during last week's winter storm. We will publish and share the updated calendar upon board approval after the meeting.
Also, as a reminder, we have extended our first quarter grading cycle to Tuesday, November 10, to ensure that our students have an opportunity to finish their assignments and to ensure our teachers have time to enter final grades. We expect first quarter grades to be posted in the OKCPS Parent Portal by close of business on Friday, November 13.
State & County COVID Weekly Reporting
As we turn our minds back to Covid-19, the reporting from the Oklahoma State Department of Health (OSDH) indicates that the cases per 100,000 for Oklahoma County are 30.4 for this week, as compared to 28.3 last week. This means we are still at Orange Level 2 according to the Oklahoma State Department of Education's (OSDE) Covid Alert Map.
As a reminder, because our state may be faced with a fluctuation between Orange Alert Level 1 and 2 for the foreseeable future, OKCPS believes it is more appropriate and consistent to make any significant instructional changes for our district at the OSDE Red Alert level. This means that the items below would only halt if Oklahoma County were to transition into OSDE's Red Alert Level and/or if we were to see a significant change to some of our other data points.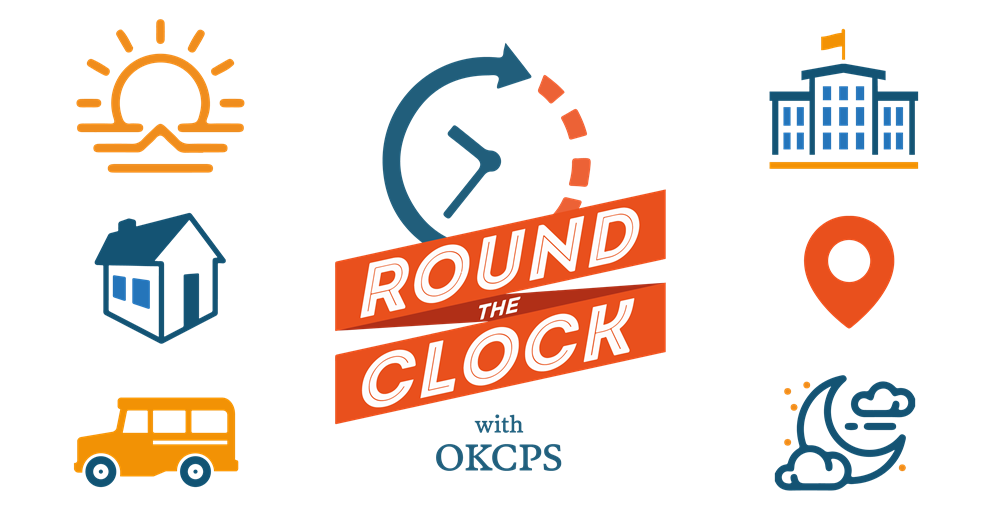 OKCPS Return To Campus
Because Oklahoma County is at Orange Level 2 this week, OKCPS will move forward with our plan to bring students back to campus for in-person learning.
Beginning Monday, November 9, our

Special Education Students

in grades Pre-K - 12th in self-contained classrooms (who have been attending in-person classes 4 days a week since September), as well as our Elementary Special Education Students Pre-K - 4th who are in an ED program, will begin attending in-person classes FULL TIME. This means these students will now be coming to campus for a full day of learning on Monday - Friday during normal school hours. Please note, that this doesn't include ALL students receiving special education services, so please verify with your child's teacher if you are unsure if your child is in a self-contained classroom or ED program. If you have questions about your student who receives special education services, please call (405) 587-0424 or email

specialeducation@okcps.org

.

Next week, OKCPS will also welcome our remaining

1st - 12th grade students, including our Newcomers (new to the United States)

, back to our buildings for in-person learning in an A/B setting.

Pre-K, Kindergarten and Alternative Education

students will resume in-person learning on the A/B schedule beginning November 9th.
So, what does this mean for our 1st - 12th grade families who are returning on November 9?
Students will now attend school in-person two full days a week. All students will log in for Synchronous Virtual Learning with their teachers on Mondays. These students will be provided with learning activities to complete on their own at home during the other 2 days of the week.

Families have already been notified of their Group A or Group B assignment. Depending on that assignment, students will either attend in-person school, for the full day on Tuesday & Thursday for Group A and on Wednesday & Friday for Group B. All students will log in for Synchronous Virtual Learning with their teachers on Mondays. See graphic below or visit:

www.okcps.org/Page/5399

for more information on the A/B Schedule. If you have not been notified of your child's "Group" assignment yet, please contact your child's school for more information.






Please note that students who are currently in our e3 Online Learning Program will not experience any changes to their learning. The A/B schedule does not impact e3 students.

All students should bring their iPad / Chromebook to school with them on the days they have in-person learning. Please make sure it is fully charged.

Transportation will be provided to all K - 12th grade students who live further than 1.5 miles from their assigned school. Bus route information is available from your student's school or visit:

www.okcps.org/Page/302

. As a reminder, OKCPS has not historically provided transportation for our Pre-K students. Instead, these families will be responsible for dropping off and picking up their Pre-K students.

Meals and snacks will be provided to students who are attending school in-person. Students will either eat in the cafeteria while social distancing or in their classrooms.

Our "Grab & Go" breakfast, lunch, supper and snack will also still be available to all students who are learning remotely at no cost from Monday through Friday at all school sites. We have, however, adjusted our curbside serving time. Meals will be served between 10:30am and 12:30pm beginning November 9th.

Students are encouraged to use refillable water bottles and use the schools' bottle-filling stations, where they are available. The district's Custodial Services will clean water fountains frequently throughout the day.

Although families are encouraged to follow the uniform guidelines if at all possible, students will be allowed to wear any solid colored polo shirt, along with khaki, black or navy pants.

The use of shared supplies is discouraged. The Foundation for OKCPS has been able to provide school supplies to most elementary schools; however, if possible, students are encouraged to bring their own personal supplies.

For more information on our Return To Campus plan, please visit: https://www.okcps.org/Domain/1762
Safety Protocols
I know many of you are anxious at the thought of bringing more students back to school in-person. That's completely understandable, but I do want to reassure each of you that the safety of OKCPS students and staff is always our priority. Among other things, our current Safety Protocols include:
Students must wear a face covering that covers both the nose and mouth. The district will provide face coverings for every staff member, student, volunteers and visitors as needed. Additional face coverings and face shields are also available for teachers and staff, along with gloves and gowns.

Each classroom has been equipped with disinfectant wipes, hand sanitizer and contactless thermometers.

Families are expected to screen children for fever of 100.4 or more and/or other symptoms associated with COVID-19 prior to students' arrival at school each day. School staff will also take each student's temperature upon arrival at the school. If the student has a temperature of 100.4 and/or presents with other COVID-like symptoms, the student will be isolated and sent home.

Frequent hand washing and sanitizing will be encouraged. Students will be asked to wash and/or sanitize their hands upon arrival, before and after meals and outdoor play. Classrooms will be equipped with hand hygiene products and additional hand sanitizer stations will be placed throughout the buildings.

Social distancing will be practiced when applicable.

Students' ability to participate in unstructured play is an important component for children to develop physical, mental and social skills. Recess schedules will be staggered and the number of children on the playground will be limited at any given time to accommodate physical distancing guidelines. Hand hygiene practices will be in place before and after recess. Additional details about recess procedures will be provided by your child's school.

All buildings are cleaned daily by custodial crews and school staff will wipe down frequently touched areas multiple times a day. Additionally, any area determined to have been visited by a positive person will be thoroughly cleaned and disinfected with CDC approved cleaning solutions.

Our buses receive daily cleaning of frequently touched areas, and have scheduled disinfectant treatments that protect buses for 90 days.

For more information on OKCPS Health & Safety Protocols, please visit:

www.okcps.org/FAQ
OKCPS COVID Notification Process
It's also important to note that OKCPS has a detailed process in place to manage COVID-19 exposure and notifications on our campuses. A few things to note:
OKCPS has a full-time Health & Wellness team who work alongside our Safety & Emergency Management personnel to conduct detailed contact tracing for each and every staff or student exposure.

OKCPS works closely with OCCHD officials and other agencies.

OKCPS has a dedicated hotline for all staff to report COVID-19 cases or exposure.

Families should call their child's school directly if their child tests positive or is presumed to be positive for COVID-19 or has been exposed to a positive person.

OKCPS will notify all families and staff each time a positive COVID-19 case is confirmed in a building/on campus. When contact tracing is complete, those who are determined to have been in close contact with the positive case will also be contacted separately and asked to isolate.

When a school is made aware of a positive COVID-19 case in a classroom, the school's healthcare professional, administration, and the District's Health Service Department will conduct contact tracing to determine who was in close contact with the positive case, be it school staff or another student. OKCPS will work in tandem with Oklahoma City/County Health Department Officials to report COVID-19 confirmed cases. Those identified during contact tracing as close contacts will be personally notified and provided with isolation information. Additionally, the entire school will be notified each time there is a positive case.

School sites will make arrangements or accommodations for learning if a student is required to isolate.
OKCPS Weekly COVID Reporting
Each Friday, OKCPS reports the number of "self-reported" positive COVID-19 cases, along with the number of individuals who have been asked to isolate due to potential exposure to the virus.
"Close Contact" Exposure refers to the number of cases when a staff member or student was in "close contact" with a person who has tested positive for COVID and has been asked to isolate. "Close contact" as defined by the Centers for Disease Control and Prevention occurs when an individual is within 6 feet of an infected person for at least 15 minutes starting from 2 days (or 48 hours) before the infected person's onset of symptoms.
Self-Reported Positive Cases refers to the number of cases when a staff member or student has notified OKCPS of positive results from a COVID-19 test.

As we continue to see an elevated number of cases in Oklahoma County, it is extremely important that everyone remain vigilant and follow all safety protocols outlined by the district and other public health agencies. These measures are in place to protect you and the health and safety of those around you and should be followed at all times. Also, for more information on OKCPS Health & Safety Protocols, please visit: www.okcps.org/FAQ
Support
It's been a challenging few months for all of us. Please remember that anyone in the OKC community can access the resources available through the 2-1-1 HeartLine. HeartLine's staff is working hard to collaborate with their partners to serve Oklahomans in need 24 hours a day, 7 days a week. If you find yourself in need of anything during this time, please dial 2-1-1. Resources include support with rental assistance, food pantries, affordable housing, health resources, child care, after-school programs, caregiver support, financial programs, literacy, and job programs.
OKCPS Employees also have access to our Employee Assistance Program at no cost. Resources include emotional support, legal and financial guidance and much more. Visit the OKCPS EAP page to learn more.
As always, please call 911 for emergencies. And, if you or someone you know is thinking about suicide, call 2-1-1 or the National Suicide Prevention Lifeline 800-273-TALK (8255) for 24/7 support.
As we look forward to welcoming yet another new group of students back to campus on Tuesday, I am grateful to the district teams who continue to work tirelessly to create a safe environment for #TeamOKCPS and for our students. Let's all work together to stay vigilant!
Thank you for your ongoing support of OKCPS. I will update you again next Friday. In the meantime, please stay safe, everyone.
Dr. Sean McDaniel
Superintendent